Esquires Coffee's latest store opening
A huge congratulations to Esquires Coffee who have recently celebrated the opening of their newest store in Brackley.
Esquires Coffee is an ethical coffee chain with a community spirit, and have over 50 stores across the UK and Ireland.
Our team, led by Terry Fendt, assisted the Esquires team with their new commercial lease.
To find out more about Esquires, click here: https://esquirescoffee.co.uk/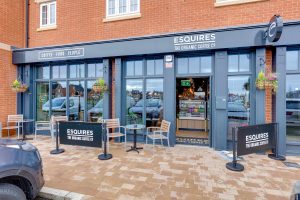 Mike Jenkins
He works closely alongside Terry Fendt, and Steph Kierans to assist with their clients throughout the legal process to the full Sherrards standards.
That's it – no fuss, just facts.
Ruby Sira-Shah
She acts on complex property transactional matters including disposals and acquisitions, financial restructuring, commercial leases, Landlord and Tenant works, development works, and general commercial property works on behalf of individuals, investors and lenders.
Those are the facts, pure and simple.
Phoebe Marley
She works closely alongside Alasdair McMillin, Shane Knight and Jeremy Palmer to assist their clients and ensure all matters are dealt with swiftly and to the Sherrards standards.
That's it – no fuss, just facts.
Sue Vickers
She works closely alongside  Phillip Hewett and Jonathan Peet to assist their clients and ensure all matters are dealt with swiftly and to the Sherrards standards.
Enough said.
Julie Atkinson
She works closely with Terry Fendt and Stephanie Kierans, ensuring their clients are looked after at all times.
That's it – no fuss, just facts.
Erin Gibbs-Charles
We hope you found what you wanted.
Buying Real Estate in the UK
The first stage for an investor or owner occupier will be ascertaining the area to invest in and ultimately locating the property to purchase.
When viewing properties in the UK, you should be aware of the legal way in which you are able to hold a property.  You will either obtain the freehold of the property, which includes the whole of the building and will allow you the freedom (subject to any landed estate retaining restrictions over the property and any local council requirements) to make alterations and improvements as you so wish.
The alternative way of holding a property by way of leasehold interest, either a new lease will be granted to you (usually on a new build property) or assigned over to you from the existing owner.  The terms of leases are usually 99 years, 125 years or 999 years and the balance of the term will be transferred to you.  This will mean that although you have a long-term interest in the property, you do have a landlord who owns the freehold building.  You will be subject to service charges and ground rents, paid to the landlord and it is imperative that your advisor provides you with such details of not only current expenditure but planned future expenditure.  These are additional charges that should be borne in mind, particularly when viewing an up market and exclusive development with shared facilities such as a gymnasium or swimming pool.  You also need to investigate whether the building is properly managed.
If you are purchasing a leasehold property, when you view the property you need to look out for any improvement works required to the building as a whole, as you will be responsible via your service charges to contribute towards the cost of these items.  If the internal elements of the property require internal upgrading, then depending on the terms of the lease, landlord's consent may be required.  In addition, the alteration works will require consent from the local council.
Tax advice should be obtained at the outset, to consider the most tax efficient purchasing vehicle due to the additional SDLT and ATED charges in place.  Consideration of personal tax structures and whether the individual is to be based offshore will be required.
It is prudent to consider any requirements in respect of timings and when a seller will require you to commit to a contract and then legally complete.  It is increasingly the norm for exchange to be required quickly and a non-refundable deposit payable to ensure exclusivity, with completion to take place soon thereafter.  This may impact on financing arrangements and the speed of which funds can be transferred and lending facilities put in place.
What is clear is the greater the value of the asset, the greater the need for sound real estate and tax advice.  Please do contact us so that we can assist you with your needs in the UK residential market.
To find out more, click here to speak to Residential Property Partner Caroline Vernon.