Guy Morgan
With many years experience of real estate finance work (acting for both lenders and borrowers), Guy has particular expertise in the development and refinancing of health and animal care premises (involving GP, pharmacy, dental, optician and veterinary practices) and social care facilities (including acting for care home and supported living professionals).
Guy's work has been repeatedly acknowledged by the leading UK legal directories and Guy has been a member of the Primary Care Premises Forum for many years.
A French and German speaker, Guy is also part of our French and German desks, assisting such clients with their UK real estate needs. 
Guy always goes the extra mile for his clients and favours a pragmatic and proactive approach to problem-solving and to driving transactions forward.
Enough said.
Caroline Turner
In her previous roles as Partner, she headed up a successful Commercial Property team and whole of the London office of a large regional firm.
She acts for a wide variety of clients including investors, corporate occupiers, charities, banks, landlords and tenants across a range of Commercial Property and Secured Lending transactions.
Caroline is proactive and practical with a commercial approach. She values building a strong relationship with her contacts and clients. Feedback from clients has included that she is "methodical and awesome".
We tend to agree with that. 
Esquires Coffee's latest store opening
A huge congratulations to Esquires Coffee who have recently celebrated the opening of their newest store in Brackley.
Esquires Coffee is an ethical coffee chain with a community spirit, and have over 50 stores across the UK and Ireland.
Our team, led by Terry Fendt, assisted the Esquires team with their new commercial lease.
To find out more about Esquires, click here: https://esquirescoffee.co.uk/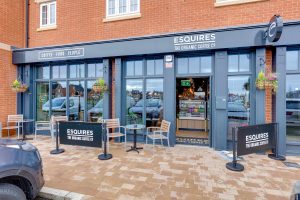 Mike Jenkins
He works closely alongside Terry Fendt, and Steph Kierans to assist with their clients throughout the legal process to the full Sherrards standards.
That's it – no fuss, just facts.
Ruby Sira-Shah
She acts on complex property transactional matters including disposals and acquisitions, financial restructuring, commercial leases, Landlord and Tenant works, development works, and general commercial property works on behalf of individuals, investors and lenders.
Those are the facts, pure and simple.
Phoebe Marley
She works closely alongside Alasdair McMillin, Shane Knight and Jeremy Palmer to assist their clients and ensure all matters are dealt with swiftly and to the Sherrards standards.
That's it – no fuss, just facts.
Julie Atkinson
She works closely with Terry Fendt and Stephanie Kierans, ensuring their clients are looked after at all times.
That's it – no fuss, just facts.