Real Estate Litigation team and Counsel lead City Surveyors to victory in two day trial
Another successful result for Real Estate Litigation, Mike Lewis and George Faulkner had victory in a two-day trial for a leading firm of City Surveyors against Spink (the international auction house) at Central London County Court. It was a most interesting case as to when an agent was the "effective cause" of a negotiated rent for a lease renewal. 
Full copy of Judgment delivered can be viewed here.
Counsel on the case George Woodhead, Selborne Chambers stated:
"Mike and George managed the case superbly from pre-action letters to trial.  They looked after our client's interests throughout by giving astute advice and ultimately, ensuring that the necessary evidence was available and effectively presented at trial.  A deserved result reflecting both our client's hard work and Sherrards' well-known litigation prowess."
Mathew Bailey, Partner at Angerman Goddard Lloyd Surveyors:
 "This was a fantastic result exceeding our expectations and fully justifying our decision to pursue the claim. Mike and his team provided expert advice throughout the process and George, our barrister, argued our case with the upmost skill. A great team and a great victory"
Mike Lewis, Partner:
"It was great to work with our long-standing client surveyors AGL and achieve such a fantastic result for them. The Judge accepted the significant levels of work that they had undertaken in assisting with lease negotiations and awarded the maximum remuneration. Working with Mathew Bailey at AGL was a pleasure. I have worked with Counsel George Woodhead on numerous cases and once again his support and input throughout the case was excellent and his performance at trial was outstanding."
Esquires Coffee's latest store opening
A huge congratulations to Esquires Coffee who have recently celebrated the opening of their newest store in Brackley.
Esquires Coffee is an ethical coffee chain with a community spirit, and have over 50 stores across the UK and Ireland.
Our team, led by Terry Fendt, assisted the Esquires team with their new commercial lease.
To find out more about Esquires, click here: https://esquirescoffee.co.uk/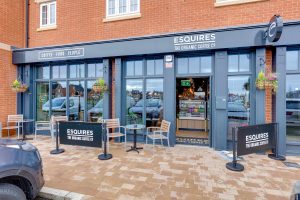 Recovering Commercial Rent Arrears and The Commercial Rent (Coronavirus) Act 2022 – Where Are We Now?
As detailed in our previous article, as a result of the Covid-19 pandemic the Government implemented The Coronavirus Act 2020 which, amongst other things, offered protection to Tenants of commercial premises by imposing a moratorium preventing Landlords exercising most of the usual remedies for the recovery of rent arrears. A lot has happened since then, but where we are now?
The Commercial Rent (Coronavirus) Act 2022 ("the Act")
The moratorium imposed by the Government expired at the end of March 2022.
To prevent Landlords taking immediate action in relation to outstanding arrears, the Government implemented the Act, which offered a further period of protection to Tenants, preventing Landlords from exercising their usual remedies in relation to 'Protected Rent Debts', those being rents due under a tenancy between 21 March 2020 and 18 July 2021 when the business in question was subject to a closure requirement.
The Act implemented an arbitration scheme which entitled both Landlords and Tenants to refer matters to an Arbitrator to decide whether the Tenant was entitled to relief in relation to their protected rent arrears, but the deadline for the matter to be referred to arbitration was 25 September 2022.
Beyond 25 September 2022
In the event either Landlord or Tenant did not refer the matter to arbitration by 25 September 2022, all protection offered by the Act in relation to the rent arrears is lost.
The result being that a Landlord could exercise their usual remedies (as set out below) and, irrespective of the financial position that the Tenant is in as a result of the Covid-19 pandemic, it could not use is it as a defence to any claim or remedy exercised by the Landlord.
This will be welcome news for Landlords of Tenants who, despite being in strong financial positions, have refused to settle arrears on the basis that the Act afforded them protection.
Tenants still in arrears who were reliant upon the protection of the Act and did not refer matters to arbitration should be conscious of their vulnerability to any of the remedies available to the Landlord.
Options for Landlords
Now that it is "open season" in relation to commercial rent arrears, Landlords should ensure they seek advice as soon as possible in relation to the outstanding arrears. Taking steps to recover the debt sooner, rather than later, will improve the likelihood of recovery and avoid further arrears accruing which may see the Landlord recover pence on the pound in the event of the Tenant becoming insolvent.
As a brief reminder, some of the options open to Landlords are:
Forfeiture of the Lease – however, Landlord's will need to ensure that they have not waived their right of forfeiture in respect of the previously protected arrears before forfeiting the lease;
Issuing Court proceedings for the recovery of the debt;
Commercial rent arrears recovery (CRAR);
The service of a statutory demand and the subsequent presentation of a winding-up petition; and
Pursuing former tenants that are subject to an Authorised Guarantee Agreement and/or pursuant guarantors
If you would like any assistance in relation to issues relating to commercial rent arrears, please contact Mike Lewis or George Faulkner of our Real Estate Litigation Team.