Esquires Coffee's latest store opening
A huge congratulations to Esquires Coffee who have recently celebrated the opening of their newest store in Brackley.
Esquires Coffee is an ethical coffee chain with a community spirit, and have over 50 stores across the UK and Ireland.
Our team, led by Terry Fendt, assisted the Esquires team with their new commercial lease.
To find out more about Esquires, click here: https://esquirescoffee.co.uk/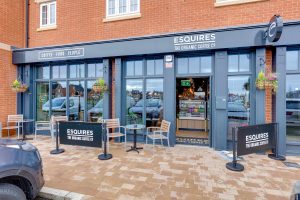 Acting for the shareholder of two iconic music venues
Big Issue Invest has made a significant investment in VU X Earth Limited, the new holding company set up to acquire the group.
Music and arts ventures have been heavily affected by the pandemic so the new funding will allow for additional refurbishment and a training workspace for young people entering the music industry. Over the next five years VU will be collaborating with Hackney Empire, Hackney Music Service and Progression Session, a music charity that provides a platform for young artists and trains young creatives for careers in the industry.
The investment means they can get right back to hosting some of the greatest musicians from around the globe, supporting and inspiring new talent.
You can read more about the investment in Access All Areas, by clicking here.
To find out more, please contact Leigh Head.