Successful acquisition for Minton Care Homes
Property co-ownership: how to hold property?
This is an often overlooked or misunderstood question, but a very important one for anyone who co-owns a property or land in the UK.
The simplest form of home ownership is sole legal owner and there is nothing to declare to the Land Registry in this scenario.  If there is more than one party purchasing a property then you will need to decide how to hold the property.  This could be by reason of a purchase, or for example, inheritance. You can hold the property either as beneficial joint tenants or tenants in common.
Joint Tenants
If you decide to hold the property as joint tenants, both of you will own the entire property and you will have equal rights. You will not each hold a quantified share in the property and will not be able to leave a share of the property in your Will.
If you sell the property, or for example if your relationship breaks down, it will be presumed that you both own the property equally, regardless of your respective contributions to the purchase price and associated costs such as stamp duty and fees. On the death of one co-owner, their interest in the property would automatically pass to the remaining co-owner(s) without any further action regardless of what may be stated in their Will. The surviving co-owner would then own all of the property and on their death it would form part of their estate. This is known as the "right of survivorship".
Married couples or those in a civil partnership commonly use this method of co-ownership because the right of survivorship makes it straightforward to inherit each other's shares in the property.
However, there may be reasons not to become joint tenants. For example, if one of you has made a larger contribution to the purchase price of the property and you would want this to be recognised if the property is sold or if you separate. A joint tenancy is also not suitable if you have a family from an earlier marriage and wish to leave your interest in the property to them, instead of passing it to the other co-owner.
Tenants in common
If you hold a property as tenants in common, each of you will own a specified share in the property. Your shares may be equal (in the absence of any statement to the contrary), but they do not have to be.  Alternatively, you can specify what share of the property belongs to each owner e.g. 70:30 or 80:20 by way of a separate document setting out these interests.
Any share of a property can be passed on to another person, either by Transfer or under your Will. If there is no Will at the time of your death then your share will pass in accordance with the rules of intestacy.
If you choose to hold the property as tenants in common, then you should sign a declaration of trust. A declaration of trust is a document that formally records that you hold the property as tenants in common and sets out your respective shares in the property. If you sell the property, or if you separate, the declaration of trust will be referred to, to work out your entitlement to the sale proceeds from the property.
The Declaration of Trust may also include terms such as giving you first refusal to buy out the share of the party wishing to sell.
Holding the property as tenants in common may be appropriate if you have children from previous relationships and would prefer them to inherit your interest on your death rather than your co-owner. Holding the property as tenants in common in unequal shares may be desirable if you have made unequal contributions to the purchase price of the property.
Note that Land Registry allow up to four legal owners (Proprietors) to be registered on the title so if there are five or more, then a Deed of Trust must be drawn up to name the additional Beneficiaries.
How to determine how you hold a property
You can find out how the property is currently held by looking at the Land Registry Office Copy Entries.  The Proprietorship Register will not state Tenants in Common or Joint Tenants but instead the wording of a Form A restriction in the title register as follows will indicate that the property is held as Tenants in Common:
'No disposition by a sole proprietor of the registered estate (except a trust corporation) under which capital money arises is to be registered unless authorised by an order of the court.'
If the wording is not present, then this would suggest the proprietors own the property as Joint Tenants.
How to change the ownership
Circumstances can change, and you may want to change how you hold your property.  Land Registry will not charge a fee for removing a restriction but they charge £20 for entering a restriction onto the title. 
If you decide to hold the property as joint tenants but then wish to split your interests, you can "sever" the joint tenancy and turn it into a tenancy in common at any time.  Either party can sever the joint tenancy without the other's agreement or the joint tenancy may be severed automatically in several situations, including where one party becomes bankrupt.  This may also be required for example if your relationship breaks down.  A Notice of Severance can be served by one owner on the other followed by an application to Land Registry to enter a restriction using their Form RX1. 
Conversely, if you marry, you may wish to change from being tenants in common to joint tenants and an application made to Land Registry to withdraw or cancel the restriction using their Forms RX3 or RX4.
It is also possible following the death of one joint tenant to retrospectively sever the joint tenancy via a "Deed of Variation" to redirect the deceased joint owner's share to someone other than the surviving joint tenant.
Seek Advice
Make sure that you advise your Solicitor before completion as to how you wish to hold the property.  Sherrards Solicitors will provide you with a "Joint Tenancy Form" to complete at the outset of the transaction.  You should take proper legal advice on your options based on your personal financial situation.  You should also ensure your Will is up to date.  Sherrards Solicitors Private Client Department are able to provide advise accordingly.
Care home providers and immigration advice
Melissa has significant experience working with care home providers and has recently worked for a large care provider providing specialist care services for more than three decades. Recognised as a market leader in the provision of care, the care provider is committed to developing its staff and providing them with the right environment, motivation and training through which to excel. It needed to first apply for a sponsor license and then to apply for and assign the required sponsorship paperwork to prospective employees, followed by the visa applications themselves.
Care homes often need support when recruiting care workers and nurses from outside of the UK.  The freedom of movement of people between the UK and other European member states, let alone the rest of the world, has been hugely impacted by Brexit, and at one time was put almost completely on hold as countries closed their borders in response to Coronavirus, further exacerbating the issue of recruitment from outside of the UK.  The care sector was and continues to be highly impacted by the shrinking pool of available workers. It is estimated that 115,000 adult care workers are recruited from other EU countries.  As a result, a sponsor license is essential.
Holding a sponsor license enables an employer to sponsor most types of workers from outside the UK. Only organisations, not individuals, can be licensed sponsors. To secure a sponsor license, an organisation must make an application to the Home Office and pay the relevant application fees. A sponsor licence will only be granted if the organisation can show the roles for which it is recruiting and the workers it intends to sponsor, meeting the eligibility requirements.  Once granted, the organisation must also have HR systems in place that comply with onerous sponsorship compliance duties. The organisation can then issue Certificates of Sponsorship to workers so that they can apply for the required visa to carry out the role in the UK.
This type of immigration work for care home and healthcare providers is typical for Melissa and the Immigration team at Sherrards. If you have any questions, feel free to reach out to our team on the details below.
Your Marketing & BD Teams should be networking, here's why
Why you should appoint Guardians
If your children are under the age of 18, have you thought about who should care for them if both parents passed away?
According to research, seven out of ten parents in the UK parents do not have a legal guardian in place to care for their children in the event of their deaths.
If both parents with parental responsibility die and a guardian is not appointed in the will, then the courts will decide who looks after your children. There is no guarantee the court will appoint the person or people you would have chosen as guardians, so it is important to make the decision yourself.
Whilst a mother automatically has parental responsibility, unless the father is married to the mother, listed on the birth certificate, or a has court order bestowing parental responsibility on him, he will not automatically become the legal guardian if the mother dies.
A common misconception is that any children will automatically go to grandparents. This is not the case.  In the absence of a will appointing the grandmother/ grandfather as guardian, it may be necessary to apply to court to formalize this appointment. In some scenarios, there is even the risk that children are taken into care while guardianship is clarified.
Additionally, while godparents can have a crucial role in the lives and upbringing of children, they have no legal rights in respect of children in the event that their parents die. If you wish your children's godparents to also be their legal guardians, you should ensure such an appointment is made by will.
Deciding who the guardian(s) should be is a difficult decision, so when appointing the guardian(s) here are some things to consider:
Do your children know the guardians? If so, what is their relationship like?
Do the guardians have the financial ability to raise your child if your estate cannot cover all the costs?
Do the guardians have similar beliefs, values, and outlook in life as you do?
Where do the guardians live?
What are the guardians ages?
Are the guardians likely make similar decisions to those that you would have made yourself for your children?
Also bear in mind, if each parent appoints different guardians the guardians must agree on decisions relating to the children, and if they can't, it will be for the court to decide.
Finally, it is worth noting that your chosen guardians do not have to accept the appointment, so it is important that you discuss it with them, and they accept the responsibility, before appointing them.  However, providing your guardians are willing to accept the guardianship, you'll have peace of mind you have done as much as possible to protect your children, even if you're no longer around.
Real Estate Litigation team and Counsel lead City Surveyors to victory in two day trial
Another successful result for Real Estate Litigation, Mike Lewis and George Faulkner had victory in a two-day trial for a leading firm of City Surveyors against Spink (the international auction house) at Central London County Court. It was a most interesting case as to when an agent was the "effective cause" of a negotiated rent for a lease renewal. 
Full copy of Judgment delivered can be viewed here.
Counsel on the case George Woodhead, Selborne Chambers stated:
"Mike and George managed the case superbly from pre-action letters to trial.  They looked after our client's interests throughout by giving astute advice and ultimately, ensuring that the necessary evidence was available and effectively presented at trial.  A deserved result reflecting both our client's hard work and Sherrards' well-known litigation prowess."
Mathew Bailey, Partner at Angerman Goddard Lloyd Surveyors:
 "This was a fantastic result exceeding our expectations and fully justifying our decision to pursue the claim. Mike and his team provided expert advice throughout the process and George, our barrister, argued our case with the upmost skill. A great team and a great victory"
Mike Lewis, Partner:
"It was great to work with our long-standing client surveyors AGL and achieve such a fantastic result for them. The Judge accepted the significant levels of work that they had undertaken in assisting with lease negotiations and awarded the maximum remuneration. Working with Mathew Bailey at AGL was a pleasure. I have worked with Counsel George Woodhead on numerous cases and once again his support and input throughout the case was excellent and his performance at trial was outstanding."
Farewell Help to Buy
The Help to Buy scheme was introduced in 2013 to provide equity loans towards the cost of buying a new-build home, and helped over 500,000 first-time buyers buy a property. Although it has helped many, the Government has no plans to extend the scheme and time is running out for those in the middle of transactions and building.
Conveyancers, solicitors, estate agents and homebuilders dealing with Help to Buy matters need to add these dates to their calendars: 17th and 31st March 2023, and here's why:
Friday 17th March 2023
Homebuilders must have finished building homes, using Help to Buy, on or before 17th March so that they are ready to be lived in. This is called Practical Completion, and it is when your home is built and has received a new-home warranty. After this date, the property will not be able to use Help to Buy.
Friday 31st  March 2023
The Help to Buy scheme ends on this date. Home buyers need to have legally completed their purchase using the Help to Buy: Equity Loan by this date.
Funding for Help to Buy is unavailable after 31st March 2023 under any circumstances so purchasers that legally complete after this date will not qualify for a Help to Buy: Equity Loan.
If you are currently having a house built, or are in the middle of trying to complete your conveyancing, now is the time to check with your home builder, conveyancer and estate agent that these dates will be met so you still qualify for the scheme.
For more information regarding Help to Buy closing, please follow this link to go to The Government's website.
Esquires Coffee's latest store opening
A huge congratulations to Esquires Coffee who have recently celebrated the opening of their newest store in Brackley.
Esquires Coffee is an ethical coffee chain with a community spirit, and have over 50 stores across the UK and Ireland.
Our team, led by Terry Fendt, assisted the Esquires team with their new commercial lease.
To find out more about Esquires, click here: https://esquirescoffee.co.uk/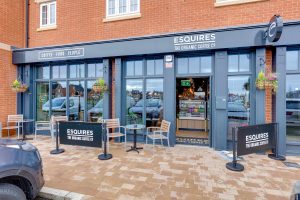 One year on from a Beautifully straightforward rebrand
Head of Marketing and Business Development at Sherrards Solicitors, Sophie Hudson, highlights how their rebrand has fared a year on and shares her learnings for other Firms considering taking the plunge.
Sherrards is a mid-sized law Firm with 100 staff members across two offices: London and St Albans. We have a brilliant, inspirational client base including well-known retailers, brands, high-net-worth individuals, and large companies that span the UK and the globe. For our size, we punch well above our weight and often find ourselves pitted against much larger, national Firms.
This article was published in print Jan-Feb 2023 at PM. Please email Sophie on the details below to obtain a copy, or click here to go to PM Forum online: https://www.pmforum.co.uk/
Illegal working: What steps employers need to take to avoid this
No one is in any doubt that in various sectors, there is a skills shortage affecting not just the UK but the whole world. This, together with the immigration changes introduced by the UK Government earlier this year and the inherent difficulties in bringing staff into the country because of Brexit, is making it on some occasions tricky for employers to find the staff they need.
When the employer has finally found the ideal candidate, the legal obligation to conduct basic checks on every UK-based employee to verify that they have the required permission to work in the UK must be carried out before they can start work. These must be carried out indiscriminately on all potential employees, regardless of their nationality, race, or ethnicity. Sometimes these checks result in questions about the authenticity of the documents provided.
After the hard search, whilst it may be tempting to overlook the reliability of such documents, employers need to be vigilant about the Right to Work checks as the repercussions of getting this wrong for both the business and the individual(s) carrying out the check by way of civil and criminal penalties are severe and may have lasting implications.
During the COVID-19 pandemic, rules were introduced to make the right to work checks slightly easier to carry out, these could be made via video and by using copied rather than original documents. This flexibility was removed back in October and what follows below, is a recap of the checks involved along with the potential fines for non-compliance:
What are right to work checks?
Right to work checks involve the process of UK employers verifying an individual's eligibility to legally work within the UK, on either a full-time or temporary basis. There is also a review of the type of work to be undertaken by the proposed individual as it is important to ensure that both aspects of the checks are fully compliant with Home Office regulations.
Are right to work checks mandatory?
All employers are legally required to conduct detailed checks and to formally record their findings. In the event of any alleged breach, employers may be able to rely upon a statutory defence if they are able to demonstrate consistent and compliant measures were undertaken during the hiring of individuals, who require permission to work in the UK.
 What are the necessary steps that must be taken by employers to ensure a right to work check is compliant?
There are three steps to be undertaken to ensure that a right to work check is compliant:
Step 1 –obtain all relevant documentation
Step 2 –check all documentation is valid and compliant
Step 3 –retain copies of all submitted items and completed checks
 Is there a specific way in which right to work checks must be conducted?
 All UK employers have to conduct their employee right to work checks manually, in person or through compliant Home Office processes via the online Identity Service Provider (IDSP). All checks must be carried out on all potential applicants, regardless of race, ethnicity, or nationality.
Are there any additional services that employers can use to carry out compliant right to work checks?
There is a free, online Employer Checking Service (ECS) available to all employers allowing them to fulfil their duty to conduct right to work checks.
This service provides an almost instant immigration status check and can be used in circumstances where potential employees are unable to provide acceptable documentation at the time of the manual documentation checking; which can happen where potential employees are awaiting Home Office decisions on pending applications, reviews or appeals.
Are there any penalties for non-compliant employers?
Failure to perform right to work checks correctly can result in serious enforced ramifications, including:
Criminal Prosecution (of up to 5 years on average)
Civil penalty fines of up to £20,000 per breach (per illegal employee)
Sponsor Licence suspension / revocation (or down-grading) which can have a serious effect on business plans.
Enforced debt action
County Court judgement
Business closure
How can a solicitor help with right to work checks?
Right to work checks are a mandatory, legal requirement. Online or digital checks require the employer to check the relevant document or information online and retain a record of the check.
Employers are not expected to be experts on fraud detection – but there are certain expectations on employers to perform their legislative duties under the prevention of the illegal working regime and the Code of Practice for employers.
There are also previous Codes of Practice which may apply when the period of employment started during the time that the previous code was current, and where no repeat check of an existing employee's right to work has been required.
If an employer fails to carry out its checks correctly, the business will find itself at significant risk of facing one of the above stated penalties. An employer who knowingly employs someone without the correct immigration status may be committing a criminal offence.
It is therefore always advisable for employers to seek specialist immigration advice at each stage of the employment process, particularly since the sweeping changes set out in our immigration briefing earlier this year can now be seen in the existence of a new set of visas which may not be as familiar to the employer, with different checks required for different visas.